Please feel free to look through our Frequently Asked Questions in order to receive some answers. If you have any other questions, contact us today.
Is there a cost to restring?
Please add $35.00, not including shipping, to re-string jewelry items.
How Do I Care For My Rose Jewelry/Items?
Always remember to treat your beads with love and care. Please note that our beads are hand-made, using flower petals. There is no resin added to our rose petal beads, so exposure to harsh chemicals and water WILL damage the beads. You may re-scent your rose beads with pure rose oil. Dab a little on each bead and AVOID water. Expect variations in size and color. Each bead is hand crafted, so each will be different. Speckles in some beads are natural, as these are pieces of the crushed rose petals. Enjoy the handcrafted beauty of your rosary jewelry.
What If One Of My Jewelry Items Breaks?
If your rose petal rosary breaks or you are unhappy with it, simply email us immediately and we will do our best to rectify the situation. Please see our disclaimer and handling information.
What Is The Cancellation Policy? What If I Change My Mind After Sending My Order?
Once Forever Remembered Roses, LLC receives your flowers, they immediately undergo a special treatment process. Flowers will not be able to be returned if you decide you do not want your order. If you did not make a deposit/down payment, the petals become the property of Forever Remembered Roses, LLC due to processing. If you did make a deposit/down payment, the cancellation processing fee is $100.00. The balance of your payment will be returned minus the processing fee.
Do You Offer Multi-Discounts?
At this time we cannot offer Multi-Reduction discounts on rose beads/rose flower beads or Frozen in Time products. The beads are hand crafted and our labor is what generates our prices.
How Will My Order Be Shipped Back To Me?
We will ship all orders via First Class Mail with Delivery Confirmation including Insurance and Special Packaging. We will also ship via UPS of FedEx by request only (additional fees may apply).
Where Do I Mail My Roses/Flowers?
Forever Remembered Roses, LLC
P.O. Box 550207
North Waltham, MA 02455
Please see the contact page for additional contact information.
Can I Use Flowers Other Than Roses?
Any type of flowers may be used, though the original technique is to use roses. When using flowers other than roses, we may have to add in another flowers to bulk up the bead mixture. For example, if you send us daises, we will need to add our own roses in order to have enough bead mixture. Please also remember that your jewelry or rosary will not have the rose smell.
Please contact us with additional questions or for more information.
Do My Roses/Flowers HAVE To Be Fresh?
Fresh roses/flowers ensure better quality, but they can also be made from dried roses/flowers, as well.
How Many Flowers Do I Need For One Rosary?
We need approximately the following numbers of roses/flowers for each item depending on the size of the roses (a full rose versus a rose bud). When ordering, please send as many roses as possible. Please contact us if you are concerned about not having enough flowers for your jewelry or rosary. We can usually make it work. For larger orders, please contact us with any questions.
Rosary: 4 Roses
Bracelet: 4 Rose
Chaplet: 3 Rose
Key chain: 3 Rose
Pin: 3 Rose
How Can I Mail My Roses?
First please cut the rose heads, leaving about two inches from the stem. Next, wrap the roses in a newspaper or a paper bag. Then mail the rose(s) in a manila envelope or a box. Please do not place the roses in any plastic envelope or containers as they will develop mold and will not be usable.
Please see the photo for suggested packaging.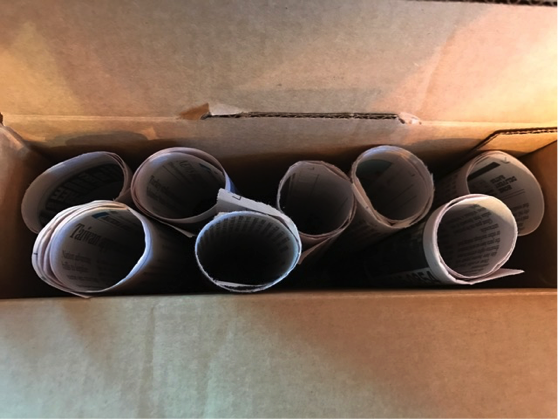 How Long Will It Take To Make My Rosaries/Items?
We take great care and pride in the quality of our work and want our customers to be happy with their memorable occasion rosaries/items. The approximate time that is involved in making the rosaries varies. Please allow 4 to 6 weeks depending upon when your order was placed. Occasionally some of the bead items might be on back order. Please allow 10 – 12 weeks for larger orders as they tend to take longer to process.
All Rush Orders/ Special Orders must be noted on the order form and additional fees do apply per item(s).
Disclaimer
Orders placed and paid and then decided you many need the order or an item in the order rushed, you will then be charged an up charge for this order/items You many occur an extra fee during Holiday Seasons such as Mother's Day, Christmas, etc. fees will be add and invoiced. Depending on what the rush items are will be what the fee will be at the decision of management Forever Remembered Roses, LLC.
Beads being made and purchased for small children adult supervision should be used FRR, LLC, will not be responsible or liable for any choking hazard. While wearing, children should always be supervised.
FRR, LLC will not be responsible for cracked beads or cracked Memories of Frozen in Time carelessly handled.
FRR, LLC is not responsible for allergies to flower beads or jewelry or Memories Frozen in Time, the customer should let us know before-hand if there are any concerns with allergies.
Color Changes of Roses/Flowers
FRR, LLC does not dye Flowers/Roses, in order to change the rose color we need handwritten permission letter signed and dated along with your order and full payment. And this is an extra fee of $75.00 process exactly the color of the flowers you like your rosary to be. This cannot be changed if you decide you do not like the color. Due to this is now a special order.
Will The Rosaries/Items Smell Like Roses?
Yes, fresh roses usually will have their natural scent. The scent will eventually wear away. We always scent each rose bead with a small amount of rose oil for an extra rose smell.